Some of the best romantic movies of all time leave us lost in daydreams. Let's face it, we love these feel-good pictures.
The best romantic movies of all time are some of the only ways to represent true love. Remember those thoughts as a child of meeting the love of your dreams, the princess, the knight in shining armor?
Yes, I am sure we've all gotten lost in thoughts of fantasy before.
Love is an unparalleled emotion and movies about this feeling bring those childhood thoughts back to us.
Movies that leave us on cloud nine.
Some of the best romantic movies of all time even make us reminisce childhood crushes. They make us remember the teenage love that felt so strong and enduring. Some of these movies remind us of the love we have now.
Yes, some of us have found the love of our lives and these flicks are simply a reflection of that. Here are several great examples of the best romantic movies of all time!
1. Pretty Woman (1990)
I will start with this one because it has a special place in my heart. Richard Geer plays a millionaire who falls in love with a prostitute, played by Julie Roberts.
This prostitute is a woman fallen into bad circumstances, like many others, but she has a heart of gold. She meets Geer and they fall in love despite their vast differences. The power of love shines through strongly in this one.
2. Casablanca (1942)
This flick is actually one of the darkest romance movies around, with its heartbreak and self-sacrifice. Ingrid Bergman and Humphrey Bogart's acting make this movie, hands down, the best love movie of all time.
3. Titanic (1997)
A historic and tragic love story, Titanic is one of the best tales of new love. This story, starring Kate Winslet and Leonardo Di Caprio, tells the almost true story of the sinking of the Titanic, but with elements of a fictional romance.
4. The Wedding Singer (1998)
A young waitress, played by Drew Barrymore, falls hard for a wedding singer, Adam Sandler. The beautiful relationship blooms after Barrymore's character struggles to come to terms with her cheating fiancée.
In the end, it's easy to become fans of this quirky couple. Sandler and Barrymore's stellar acting make this movie seem like one of the most realistic love stories to date.
5. A Walk to Remember (2002)
I promise you will shed many tears while watching this heartbreaking love story. Nicholas Sparks' character, Shane West, falls for a young girl named Jamie, Mandy Moore, only to find out Jamie has leukemia.
The story continues with the couple making the most of their time together and living life to its fullest. It's an amazing love story that you won't easily forget.
6. An Affair to Remember (1957)
Carey Grant, a playboy, meets Deborah Kerr on a Transatlantic liner where they fall in love. The problem is, they're both already attached.
Their love is so strong, however, that they agree to meet at the Empire State building in 6 month's time, allowing them to break ties with their present lovers. This is a classic story of tragic love and consequences.
7. She's all that (1999)

Freddie Prinz Jr. plays a popular soccer player who is offered a challenge to transform a nerdy girl into the next prom queen. Needless to say, they fall in love and the nerdy girl, Rachel Leigh Cook, finds out about the challenge.
8. 10 Things I Hate About You (1999)

Julie Stiles plays a teenage girl who has a small grudge against dating. Heath Ledger is paid to take her out on a date…if he can. Of course, they do fall in love, and much like the movie, She's all that, Julia Stiles' character finds out about the wager.
9. Eternal Sunshine of the Spotless Mind (2004)

No list of love stories is complete without the alternative version. "Meet me in Montauk." – this statement became famous among fans of this strange little movie, packed with overwhelmed emotions and a touch of mental illness.
The story follows the characters, Kate Winslet and Jim Carey, through new love, breakup and innovative technology designed to make them forget one another. You would have to see this one to get the whole idea.
10. Moulin Rouge (2001)

One of the best romantic movies of all time was definitely Moulin Rouge. What can I say, I have a weakness for controversial love stories. This tale is a tragic love affair between a Parisian "prostitute" and a "penniless writer".
By the time they are able to finally share their love for one another, the writer's love interest reveals her terminal sickness. Nicole Kidman and Ewan Mc Gregor are splendid in this beautiful love story.
11. The Notebook (2004)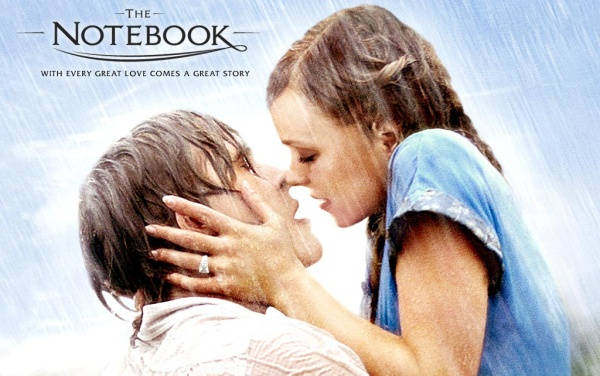 Everyone seems to know and love this sugary sweet love story. The tale starts with a classic love affair which turns sour. Noah, played by Ryan Gosling, has to go to war and Allie, a rich girl, played by Rachel McAdams, leaves her parent to starts a new life and to forget about her former lover.
I will leave the ending a mystery to you! Go watch and find out what happens!
12. Edward Scissorhands (1990)

Yes, this is an odd one, but truth be told, it's also a really sweet love story. Johnny Depp plays a creation called Edward who falls in love with a young ordinary girl, Wynona Ryder.
But Edward is different as he was created with giant scissors for hands. This ultimately makes the townspeople ostracize him chase him away, thus ending the love affair.
13. Fear Eats the Soul (1974)
The love between characters Ali and Emmi is one that's also a bit controversial. Emmi is two decades older than Ali and they are an interracial couple, which was not as common in the 70s and poses problems.
As you watch this film, there is no doubt about their love for each other or the reasons why.
14. Ghost (1990)

Demi Moore and Patrick Swayze play a perfect couple struck by tragedy. Swayze's character is murdered one night, devasting Moore. But Swayze's ghost is relentless and seeks the help of a psychic to contact his widow. This movie proves that true love has no boundaries and true love never dies.
15.William Shakespeare's Romeo and Juliet (1996)
This classic Shakespeare story takes a modern turn. The romance, however, is just as beautiful. Claire Danes and Leonardo Di Caprio are perfect for this role and seem to bring new life into Shakespeare's tragedy.
16. Up (2009)
Of course one of the most heartwrenching stories of all time is the movie UP. This animated classic tells the story of childhood romance which endures time.
Of course, this is only the back story to a cute little tale about how a lonely old man (widow) from the great love affair, meets a little irritating boy and saves the day. After he experienced such an epic love story, he needed a new friend. This one is not just for the kids, trust me!
And there is more…
Be sure to check out many other best romantic movies created to take you back to those childhood daydreams.
For now, take some time and enjoy these great examples of true love stories. You will be glad you did!
References:
Like what you are reading? Subscribe to our newsletter to make sure you don't miss new life-advancing articles!
Copyright © 2014-2023 Life Advancer. All rights reserved. For permission to reprint, contact us.