Entertainment isn't frivolous; we look to the best inspirational movies for personal guidance.
Admittedly, feel-good movies are emotional. They may seem sappy to anyone who's uncomfortable connecting with or expressing their feelings. But they get rid of our limiting beliefs if we pay attention to their messages. Truly inspirational movies entertain, educate and motivate.
What makes an inspirational movie?
So what would classify a movie as inspirational?
First of all, such a movie is educational. It would teach essential values without appearing to put itself on a moral pedestal. An inspirational film is socially conscious and makes us aware of the issues of the day. Also, a movie like this would address reality. It doesn't speculate; it gets to the heart of the problems people face in the course of daily living.
Furthermore, it would seek solutions to problems. It prompts us to make the necessary changes to improve our lives. Most importantly, the best movies are not only inspirational but also motivating. They offer hope and push along our journeys when we face obstacles that seem insurmountable.
5 Best Inspirational Movies That Will Make You Believe In Yourself Again
Hollywood producers, past and present, have done a fabulous job of coming up with films that entertain and educate. Here are five of the best inspirational movies that will provoke thought. These films will restore your confidence in yourself and humanity.
1. Pay It Forward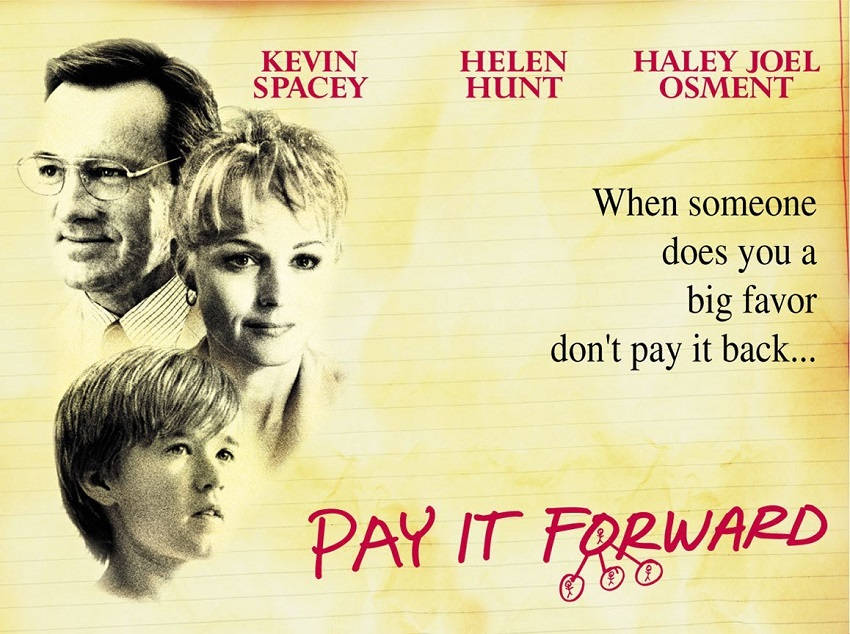 First of all is Pay It Forward, starring the then precocious preteen Hayley Joel Osment, Mad About You star Helen Hunt and House of Cards celebrity Kevin Spacey. Producers based the film on the novel of the same name by Catherine Ryan Hyde.
The movie surrounds a young boy, Trevor (Osment) who receives a unique, somewhat challenging assignment from his emotionally scarred social studies teacher Eugene Simonet (Spacey). The task is to come up with a plan to change the world.
Trevor designs a plan to pay forward the kindness that others show him. One person would reach out to three people, each of whom, in turn, would help three others. He puts his plan into action and gets into a few scrapes in the process. His mother, Arlene (Hunt) visits the school with the intention of giving Simonet a piece of her mind.
The two end up falling in love instead. Meanwhile, Trevor continues to pay it forward, and his efforts reap positive results. Hayley's performance is the most striking by far. He shows wisdom and kindness that even adults cannot match.
You will have to watch the rest of the film to discover its sad, but poignant ending. It's a life-changing movie that will leave you thinking that if a 12-year-old can change the world, so can you.
2. Invictus
Invictus, a film by the prolific actor-director Clint Eastwood, also ranks as one of the best inspirational movies of all time. What will draw a viewer is a focus on how a poem, and consequently sports, can inspire unity in a nation.
Morgan Freeman stars as Nelson Mandela, who faces the challenges of bringing together a very racially divided South Africa upon his release from prison.
While attending a rugby game between Springboks, South Africa's rugby union team, and England, he notices the black people cheering for England because of their experiences with Apartheid in South Africa. He then meets with the captain of Springbok, Francois Pienaar, and hints that the team's victory would unify the country.
He also introduces Pienaar to a British poem, Invictus, which held him together in prison. The verse states that no matter the circumstances, "I am the Captain of My Soul." Pienaar, in turn, introduces the poem to his teammates, who train amidst dissent. For many, they symbolize white supremacy.
To everyone's surprise, support for the Springboks grows among the black population. Later, the team beats their arch-rivals, Australia. Soon, the whole nation rallies behind Springboks. They eventually win the William Webb Ellis Cup. Mandela recites Invictus.
Freeman delivers the award-winning performance that audiences have come to expect. He portrays Mandela with the same tenacity and wisdom that Mandela himself had.
Invictus gets a person to let go of his limiting beliefs. It reminds people that no matter how adverse their circumstances are, there is no dominating the human spirit.
3. Freedom Writers
Based on the book The Freedom Writer's Diary by teacher Erin Gruell, this is another standout movie that will change negative mindsets.
The story surrounds Woodrow Wilson High School in Long Beach, California. Once noted for nurturing students with academic abilities, it now has difficulties because of its racial integration plan. Enthusiastic teacher Erin finds her students self-segregating into ethnic groups when she first meets them.
Erin Gruell (Hilary Swank) not only faces the dilemma of gaining her students' trust, but also the lack of support from the school's administration.
Racial violence develops in the course of Erin's time at the school. Two students, Eva, a Mexican-American girl and Sindy, a Cambodian refugee, go to the convenience store they always frequent. An African-American student, Grant Jones, loses at the store's arcade game and demands a refund from the store's owner.
Unknown to Grant, Eva's boyfriend, Paco, wanting revenge for losing a fight to Grant, attempts to kill him via a drive-by shooting. He misses and shoots Sindy's boyfriend by accident. Eva testifies in favor of Paco because her father demands that she should always protect her own.
Erin, determined to reform her students, contends with this and other challenges. She does so at the expense of her marriage. The dedicated teacher uses unique teaching methods to persuade them that they can 'turn on a small light in a dark room.
She gets them to write about how they can make positive personal changes in their diaries. Erin goes on to change the lives of countless students, including that of Eva, who eventually breaks free of her father's demands.
Swank embraces the role of Erin Gruwell with vigor and urgency, much like a teacher whose anxious to turn things around. The film will make you realize that anyone can make a positive change. But it also gives a poignant reminder that the effort can come at a personal cost.
4. Forrest Gump
If there is a movie that will make you believe in yourself again, it's Forrest Gump. Its creator, Robert Zemeckis, based this film on the 1996 book of the same name by Winston Groom. It ranks among the best inspirational movies of all time.
The story details the life of Forrest Gump (Tom Hanks), a slow-witted but compassionate man from Alabama. Though not as intelligent as his peers, he has remarkable athletic prowess and is wise. Forrest recounts his life to strangers while sitting on a bench in a park. He couldn't walk as a young child because he wore a brace to correct a curved spine.
While evading bullies, Forrest learns that he is a fast runner. His running ability leads him to receive a football scholarship to the University of Alabama. He enlists in the army after graduating from college and becomes part of a platoon sent to the Vietnam war front. He makes a friend, Bubba, who becomes a war fatality, and saves many of his platoon mates.
Forrest also discovers his talent for ping pong. He plays competitively and eventually meets President Richard Nixon. He accidentally reveals the Watergate Scandal and causes Nixon to resign.
The simple, but emotionally intelligent man proposes to his sweetheart, Jenny, but is heartbroken when she rejects him. He goes for a run and decides to keep running until he finishes crossing the country several times. The feat makes him famous.
Hanks' award-winning performance both charms audiences and makes them cry. He is innocent and wise at the same time. Those who've not had the opportunity to watch this film should look out for its poignant ending. The film makes a person reflect that, if a man who faces the life challenges which Forrest does can make a difference, so can they.
5. Hairspray
Watch the musical Hairspray if you don't believe that anyone can make an earthshaking, positive change. This lighthearted film goes well with popcorn in those moments of low self-esteem. It's clearly one of the best inspirational movies.
Its story surrounds high school student Tracy Turnblad (Nikki Blonsky), who, though non-descript and a little pudgy, has dreams of being a dancer. She watches the Corny Collins show avidly.
Tracy has to serve detention for not paying attention in class. The detention room is full of black students who seem to enjoy dancing; that excites her. One of them, Seaweed, introduces her to the world of dancing. Her moves attract Corny Collins, who puts her on the show.
Tracy quickly becomes one of the show's best-loved dancers, a feat which earns her the jealousy of Velma (Michelle Pfeiffer), the manager of the show's associated radio station WYZT, who wants to put her daughter Amber in the spotlight.
Tracy marches for racial integration when Velma cancels Negro Day, a day when black people can appear on the Corny Collins show. Blonsky carries the role of Tracy with liveliness and spunk, exactly how the teen is supposed to come across.
You will have to watch it if you want to find out how the march went and what the outcome of the push for integration was. Suffice to say, the show shows that a seemingly insignificant person can make a difference in the lives of others if he is willing to take action.
If life leaves you feeling that you need an emotional boost, theseinspirational movies will lift your spirits and fill you with hope.
Like what you are reading? Subscribe to our newsletter to make sure you don't miss new life-advancing articles!
Copyright © 2014-2023 Life Advancer. All rights reserved. For permission to reprint, contact us.