Sometimes the advertising of new products and the ideas used to promote them are so amazing and attractive, that you want to buy everything you see at once.
The look of a product is really important, so companies are making clever packages with a lot of taste and humor.
I hope you like this shortlist of these clever product packages we collected from different sources around the Internet.
You will see that some of them are simply funny and cute, while some others are also practical to use and store. To be honest I would like to buy most of these products just for the packaging.
Enjoy them and if you like, you can also add some more product images from your country.
1. Yarn
via packiii.com
2. Pistachio Nuts
Wonderfully delicious pistachio nuts have been revered as the symbol of wellness and robust health since ancient times.
via rozenfelde.com
3. Earbuds

via packagingoftheworld.com
4. Spine Vodka
via johannes-schulz.com
5. Butter
6. Sustainable Wooden Kitchen Tools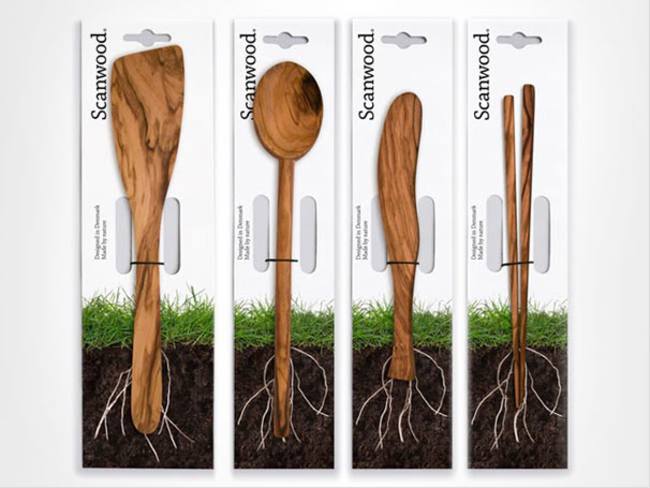 Scanwood is a Danish utensil company where their products are made solely out of sustainable natural materials.
via blogspot.com
7. Bobby Pins
via packiii.com
8. Tissues
via packiii.com
9. Fast Food
via wired.com
10. Marvel Store Bag
11. Dog Bones
via nonewz.co
12. Cookie
Japanese Cookie pays homage to the afro.
13. Bread Bra
The sales of this bread benefited breast cancer research.
via neatorama.com
14. Bread
Barra de flama by Xevi Ramon
via losiento.net
15. Paint Brushes
This humoristic packaging offers the function of assembling two products together with only one cardboard printed on both sides.
via behance.net
16. Freshly Baked Thelma's Cookies
Cookies are made fresh and delivered warm right out of the oven.
17. Laundry Detergent
via packiii.com
18. Samurai Vodka
Samurai Vodka is fictitious rice vodka created by Schreiber to add context to his bottle design.
via designyoutrust.com
19. Honey
via blogspot.com
20. Barcode for a Cup of Noodles
via reddit.com
21. Olive Oil and Vinegar
via lavitaimports.com
22. Orange Juice
via blogspot.com
23. Gum
via graphicmania.net
24. Gym Bag
via worldtrends.co
25. Origami Beer
via blogspot.com
26. Coconut Water
via designermag.org
26. Waterproof Watches
Blowing their competition out of the water in the packaging stakes this brand literally shows you the watches capability without having to say very much.
via behance.net
27. High Protein Bread
28. Gift Bags
via etsy.com
30. Hanger Tea
via blogspot.com
Like what you are reading? Subscribe to our newsletter to make sure you don't miss new life-advancing articles!
Copyright © 2014-2023 Life Advancer. All rights reserved. For permission to reprint, contact us.